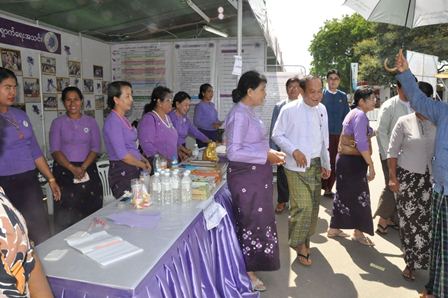 11th to 13th August, 2018
 
MMCWA contributed as a member of Myanmar National Women Committee and conducted booth show in Youth Development Festival held in Mandalay University Campus from 11th to 13th August 2018.
During the festival, Myanmar Maternal and Child Welfare Association's President Prof. Dr. San San Myint Aung, Vice President (1) Dr. Mar Lar Win, Secretary Dr. Nwe Ni Ohn, Auditor Dr. Khin Win Thet, Assistant Surgeon Dr. May Chan Oo and member of Mandalay MCWA supervisory committee attended.  In booth, MMCWA members displayed vinyl on benefits of breast feeding, supplementary feeding, Prenatal Care, Conception and Prevention of Rape and distributed pamphlets concerning Reproductive Health knowledge.
Quizzes were used as a tool for assessment of knowledge and gave presents to participants who could answer correctly.