Seven Things This Year Initiative
A Family Empowerment Initiative
Introduction
Role of care givers especially women/mothers is critical in promoting family care practices. The Seven Things This Year Initiative aimed to engage women and mothers to enhance their role and contribution to child health and development. This community empowerment programme will also enable them play a greater and supportive role in better health of their children, families and communities.
In collaboration with DOH (WCHD) and UNICEF, 'Seven Things This Year Initiative' is being implemented since 2012.
Objective
The overall objective of this initiative is to empower caregivers especially women/mothers in the promotion of family health.
The specific objectives are:
To involve caregivers especially women/mothers in dialogue and collective duties through a strategic replicable process
To empower women/mothers in family care practice process, community engagement and motivational skills
Key Family Practices
Categories

Key Family Practices

Growth promotion and development

Exclusive Breastfeeding of infants from birth to six months; start appropriate complementary feeding at six months; continue breastfeeding until 24 months; and newborn care
Nutrition for pregnant and lactating mothers

Disease Prevention

Take infants for complete and full course of immunizations per schedule

 

Ensure under-five children sleep under insecticide treated bed nets

 

Wash hands with soap especially after using the toilet and before handling food and eating

Home Care of sick child

Continue feeding children and increase fluid intake when they are sick

Care Seeking

Recognize when a sick child needs care outside home; seek care and treatment from appropriate providers
Geographical Focus
This programme is being implemented in phased manner.
Phase 1; In 2012, it is piloted in 2 wards & 100 villages in Myingyan and Kyaukpadaung townships.
Phase 2; In 2013, it is expanded to 3 wards, 150 villages in Thahton, Hpa-an, Dawei townships and additional 12 more villages each in Myingyan and Kyaukpadaung townships.
Phase 3; In 2014, it is also scaled up to 6 wards, 300 villages in Hlaingbwe, Paung, Oktwin, Lashio, Tharbaung and Mindon townships.
Programme Process
Through the MMCWA volunteers the women/mother groups will be formed in each village/ward of the selected townships to take lead in promoting six family care practices as well as a local child health issue.  Each member of the group will be tasked to reach out seven families to persuade the family members on the family care practices. 
The MMCWA Volunteer will be the focal and converging point of the village holding regular meetings of the group. Her main role will entail the mobilisation of women members towards common challenges and tailoring local solutions around family care practices.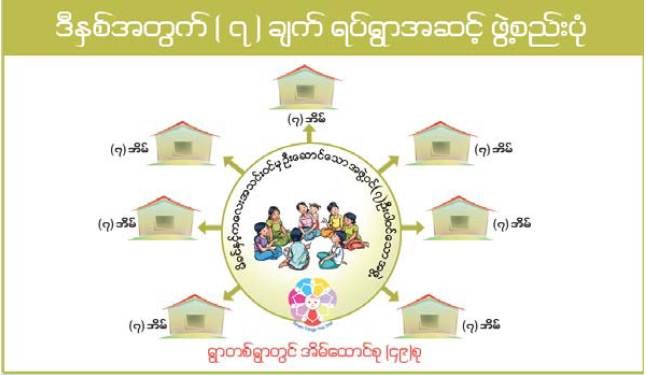 7 practices – 7 members – 7 households
Formation of a 7 member mothers/women group in a village/ward.
Each group member must take care of 7HHs where there is under 5 children including her own household.
Disseminate key messages on 'Seven Things This Year'
Encourage families to adopt recommended behaviours and practices
Monitor and supervise to adopt recommended behaviours and practices
49 Households in each villages
The empowerment process entails:
Advocacy Meeting at Central and Township levels
Capacity building at Township & village levels
Community mobilization by means of monthly meetings, folk performances & community day events.
Advocacy Meeting & Capacity Building
Advocacy meeting at Central and Township Levels
Capacity building at township level
Two-day training of trainers(ToT) from 1 ward and 50 villages of respective township
Capacity building at village level
One-day training for 7 core group members
Community Mobilization
7 Members Monthly Meeting
Each group to meet every month to review the progress of each member and agree on the next steps.
Family Day – family members (every month)
Preparing special meals, put water & soap outside latrines to wash hands, making their households more relevant to recommended behaviours.
49 Households 2 Monthly Meeting
All mothers/women reached by the group to review and celebrate the progress on family care practices and discuss plans for the remaining period.
Community Day (Quarterly)
Linked with local festival - Group to arrange distribution and display of material at the public places, during festivals and special campaigns. 
Edutainment through folk media (one performance for 10 villages)
Recognition
At the end of the year, a completion certificate/recognition plate will be presented to each household who are practicing recommended behaviours.
Monitoring & Review Meeting
Monitoring visits by Project Manager and staffs from NPT (at least two times per quater)
Monitoring visits by Township MCWA members (Quarterly)
 Joint-Monitoring visits by UNICEF C4D staffs (Yearly)
Review meetings – every quarter in NPT
Coverage
It was reported that 28,665 households with more than 290,000 community members in 11 selected townships received knowledge about seven key family practices. 3,927 core members including 561 group leaders were formed reaching a total of 180,000 direct beneficiaries. Core members are persuading their families and peers to practice key family and community care practices through sustained dialogue under this initiative.