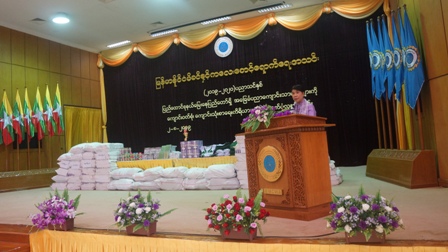 2nd August, 2019
MMCWA's Donation Ceremony of School Uniforms and Stationery to the students from Basic Education Schools of Nay Pyi Taw Territory was held at MMCWA Headquarter on 2ndAugust, 2019.
The ceremony was attended by President of Myanmar Maternal and Child Welfare Association, Prof. Dr. San San Myint Aung and Central Executive Committee Members, inviting guests, responsible persons from Education Department of Nay Pyi Taw, Township Education Officers, Headmasters,teachers, and students from respective schools.
It was started with opening speech delivered by President Prof.Dr.San San Myint Aung. After that, president and central executive committee members donated school uniforms and stationeries to the representatives of Basic Education Schools.And then, Headmaster Daw Mu Mu Swe from Tha Pye Pin basic education school give a speech of thanks for the donation. 
In this ceremony, a total of 10,668,660 kyats value of school uniforms and stationeries were donated to the students from (28) basic education schools in Nay Pyi Taw region including (13) students who are offspring of MMCWA office staff.