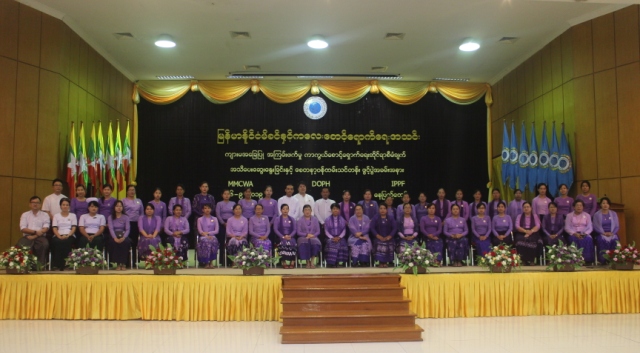 20th September, 2019
"Gender-based Violence Prevention & Access to Response Services Training" was conducted in collaborating with International Planned Parenthood Federation (IPPF) from 16th to 18th September, 2019 at Myanmar Maternal and Child Welfare Association Headquarter.
The opening ceremony was attended by President of Myanmar Maternal and Child Welfare Association, Prof, Dr.San San Myint Aung, Vice President Prof, Dr.Malar Win, Official from Department of Public Health, focal persons from IPPF, States and Regions MCWA Supervisory Committee members, Township MCWA Committee members and other invited guests.
Firstly, MMCWA's Prof, Dr.San San MyintAung delivered the opening remark. After that, Executive Director of IPPF, Dr.May Chan Oo explained about the training. Total of (40) MCWA volunteers from the Kachin, Kayin, Yakhine, Shan, Sagaing, Bago, Yangon and Ayeyawaddy had attended this three-days training.